RARE SKILLS & AUTHENTICITY
Penelope Chilvers is passionate about using natural materials of the highest quality. Traditional techniques in leather are always nurtured and continue to inspire.
Penelope Chilvers passionately supports dying crafts, rare skills and traditional methods for manufacturing in the 21st century.

"It's about going with the grain and not against it" Penelope says, "and when it comes to leather, I like to enhance its natural texture, and imperfections - nothing is uniform - each piece is unique and only improves with age." "I have been fortunate to meet wonderful people with rare skills; some of which are dying away. I have learnt from the best and work closely with artisans who have taught me my trade."
Penelope's passion in local sourcing and protecting local industry is what keeps the brand so authentic. She endeavours to source each and every component in a design, which is then crafted by hand, using traditional methods, ensuring the durability of each of the brand's styles. Penelope Chilvers give utmost importance to building long lasting relationships with factories and suppliers and fair wages and good working conditions are a minimum requirement.
---
Vegetable Dyed Leathers
---
The majority of Penelope Chilvers core styles are made of 100% Spanish vegetable dyed leather. These skins are manufactured with plant extracts from Quebracho and Mimosa and finished with natural oils applied by hand to each individual skin. This gives the leather a distinctive textural appearance and a suppleness that is quite different to a machine finished leather. These leathers are traditionally used for equestrian leather goods such as bridles and saddles. Vegetable dyed leathers have obtained the OEKO-TEX standard 100, which guarantees that they are free from metal or harmful substances when put in contact with human skin.
---
The Art Of Trocolage
---
A 'trocel' is a metal leather cutter shaped into repeated designs similar to a pastry cutter. It's a beautiful hand held device that we use for creating intricate leather cut out work in the collections. The modern equivalent is a laser cutting machine but an educated eye can tell the difference. The laser cutter burns the edges and leaves them thinner and less crisp than the traditional metal trocel.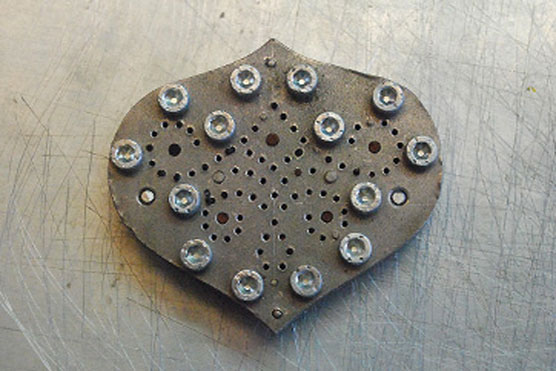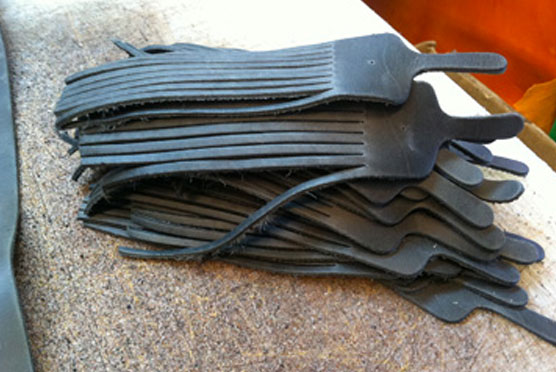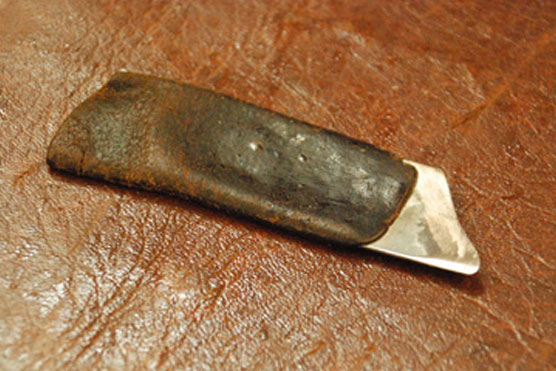 ---
Goodyear Welted Soles
---
The Goodyear welted construction was introduced by Charles Goodyear in 1869 when he devised the original hand sewn method. It remains the traditional method of construction for the manufacture of men's dress shoes to this day and is associated with some of this country's leading footwear brands. The welt is a strip of leather that is stitched to the upper and insole of a shoe, as an anchor point for the sole. As well as using a welt, a twelve strand thick thread is used to hold the materials firmly together. The very nature of this construction means that Goodyear welted footwear take far longer to manufacture than cheaper alternatives.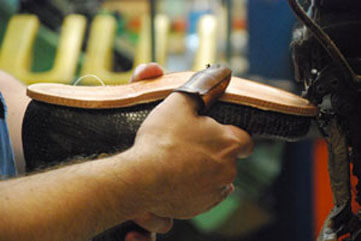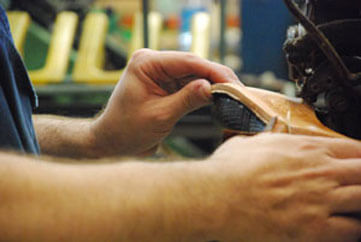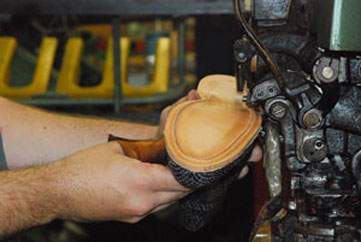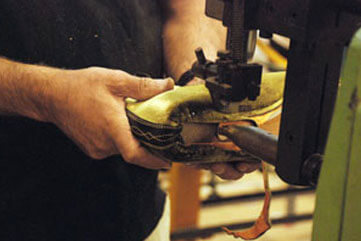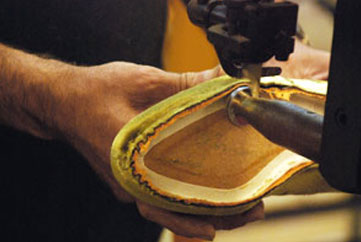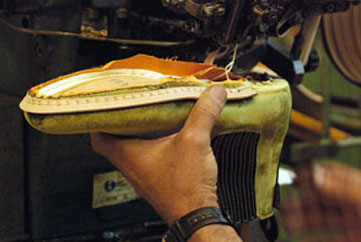 Modern, faster and cheaper techniques often imitate the look of the Goodyear technique with pre-fabricated parts and the use of glue to bond the upper to the heel. The benefit of Goodyear welted footwear is that the system allows for a constant flow of air through the shoe, which keeps the shoes ventilated, durable and strong. Goodyear welted footwear moulds beautifully to the shape of the foot and gives a great flexibility. They can be resoled again and again and can last a lifetime if cared for correctly.
---
Jute Espadrilles
---
Our espadrilles are authentically crafted according to traditional methods. The rope soles are hand coiled for extra strength and the soles are hand stitched to the uppers with natural jute thread.
---
INCREDIBLE BOOT CONSTRUCTION
---
Our Incredible boot is a technical après ski boot with a 100% natural shearling lining. These boots are expertly crafted with a 1.5-2cm space at the toe to allow a constant flow of air around the foot, thus insulating the feet from cold weather conditions.